Faculty Profile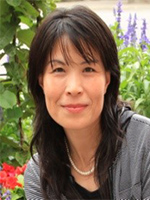 Professor: Computer Science, Graduate School
Runhe HUANG
Research area:
Evolutionary Computation
Machine Learning
Related site:
Personal Statement
Runhe Huang received her B.Sc. in Electronics Technology from the National Defense University of Technology, China, in 1982, and her Ph.D. in Computer Science and Mathematics from the University of the West of England, UK, in 1993. She worked at the National Defense University of Technology as a Lecturer during the period 1982-1988. In 1988, she received a Sino-Britain Friendship Scholarship for her Ph.D. study in U.K. She was an assistant professor in the Computer Science and Engineering Lab. of the University of Aizu for 7 years, and joined the Faculty of Computer and Information Sciences at Hosei University in April, 2000. She is new a professor at Hosei University.
Her research fields include computer-supported collaboration working (CSCW), artificial intelligence and its applications, multimedia and distributed processing, Mobile Computing, and Ubiquitous Computing.
Her current research interests are mainly focused on distributed intelligent and collaborative computing, including multimedia collaborative systems over the Internet; distributed processing and resource management; intelligent agents for a virtual university and cyber-world; intelligent processing in e-business and e-commerce, and Wireless Internet Computing in a Lifelong Learning Community, and Ubiquitous Intelligence System. Dr. Huang is a member of the IEEE, ACM and IPSJ. She has been active in various academic societies. She has published more than 95 academic refereed papers in various international conferences and journals. She received the Best Paper Award from the 2000 International Conference on Information Society in the 21st Century: Emerging Technologies and New Challenges.
Teaching Courses
Goal
With rapid developments of the Internet and Web technologies, the 21st century is a networked digital information era. Accompanying this era, a new world (Cyberworld) is on its way to be brought out. It is an interesting and a full of mystery world. It is time for us to discover mysteries and make inventions, in particularly, in the fields of world modeling and finding scientific laws and social regulations for guiding people's communications, collaborations and educations in this exciting world. Let us face the challenges and enjoy inventions in the 21st century! Let us having a dream and realize it!
Undergraduate School
Java 1

?

Project A

?

Project B

?

Artifical Intelligence Laboratory Work

?
Graduate School
Intelligent Agents in Cyberworld

?

Multi-agents system in Cyberworld

?

IT Factory Seminar IV

?

Research Semimar IV

?

Research Course in Computer and Information Sciences

?

Master Thesis
Doctor Dissertation
Research Area
In Runhe Huang's laboratory, the current research has been mainly focused on Intelligent and Collaborative Distributed Computing in the Cyberworld, which includes intelligent and automated processing in e-business, collaborative agents and systems over the Internet, and distributed resource processing and management. The themes proposed for Projects A & B and ITPC are as follows:
Intelligent trading agents in e-business.
Modeling of negotiations in e-trading.
Virtual collaboration systems for group activities over the Internet
Wireless Internet applications in e-commerce.
Automated and intelligent management of ubiquitous devices with advanced concepts and technologies.
Evolutionary classifier systems
Research Projects
I am interested in finding out how human and intelligent agents should be conducting their communications, collaborations, educations, working, and living in the 21st century network based digital cyberworld and the real world. Join with me to discover mysteries and make inventions in this exciting world! My research interests are mainly focused on modeling, representing, and implementing communications, negotiations and collaborations of human and intelligent agents in this new world.
Distributed and Intelligent Processing in e-commerce
Intelligent and Collaborative Systems over Networks
Artificial Intelligence for Building Intelligent Agents
Genetic Algorithms for Optimizing Network Designs
Wireless Internet for e-commerce and Distance Learning
Evolutionary Rule base Systems for Robot Exploration
Publications