Faculty Profile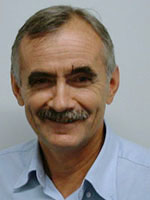 Professor: Digital Media, Graduate School
Vladimir SAVCHENKO
Ph.D. (Theoretical Mechanics)
Research area:
Geometric Modeling
CG
Animation
Related site:
Personal Statement
Vladimir SAVCHENKO came to Hosei University from the University of Aizu (Japan) where he was head of the Shape Modeling Lab and undergraduate/graduate teacher. Before 1993 he was deputy director and head of the Computational Mechanics Lab at the Scientific Institute of System Analysis of the Russian Academy of Sciences (Moscow). Up to 1987 he was senior research assistant at the Institute of Applied Mathematics of the Russian Academy of Sciences.
Education
Institute of Applied Mathematics, Moscow, Russia
Ph.D., Theoretical Mechanics, 1982-1985
Moscow Aviation Institute," Department Spacecraft", Moscow, Russia
MS, Mechanical Engineering, 1965, Sept., 1971, Feb.
Research interests: Geometric Modeling, Computer Graphics, Physically Based Simulation, Artificial Life, Parallel Processing, Haptic Visualization.
He is a member of the IEEE Computer Society
Awards
Bronze Prize Computer Graphics Grand Prix in STEC, Tokyo, Japan, 1996
Best WWW Award EUROGRAPHICS '96, Poitiers, 1996
Government order "Znak Pocheta", 1985
Government medal "Za Trudowoe Otlichie", 1975
Teaching Courses
Undergraduate School
Project A

?

Project B

?

Programing Language C

?
Graduate School
Geometric Modeling : Shape Design and Reconstruction

?

Hybrid Volume Modeling and Visualization

?

Projective Geometry and Shape design

?

Volumetric and Multidimensional Modeling

?

Volume Modeling, reconstruction and animation

?

IT Factory Seminar III

?

Research Semimar III

?

Research Course in Computer and Information Sciences

?

Master Thesis
Doctor Dissertation
Research Area
Laboratory
 "Interactive High-Performance Terrain Visualization for Fukushima Prefecture" project In collaboration with Prof. S. Sedukhin, The University of Aizu, Japan. Supported by the Fukushima Prefectural Foundation for Advancement of Science and Education.
 "CIS project": Java implementation of Turtle graphics for 3D geometric modeling, visualization, and painting
Research Projects
The heart of my work is hybrid volume modeling, which includes mathematical models, numerical methods, software algorithms and programming realization. Highly detailed complex objects can be produced and we are able to apply set-theoretic operations, transform objects, and control deformations according to the given constraints or main topological features of the shapes, by producing more complex ones.
Some examples of this approach are on the Web site: http://www.k.hosei.ac.jp/~vsavchen/Pictures.htm
Ongoing projects
"Growing shapes: Reconstructing missing parts of geometric objects". Potential application areas include shape modification and 3D animation
"Volume modeling: Evolutionary optimization of functionally defined shapes". Potential application areas include lens design.
"Interactive deformation of a virtual object with the help of CyberGlove". Potential application is a puppet animation
"3D haptic sculpting of geometric shapes". Potential application areas include shape design in car and other industries, computer art, medicine, in particular, prosthetic design.
Typical/proposed master projects
Converting Elevation Contours to a Grid: Hypsographic (elevation) data can be represented in various formats, including contour lines. The goal of the project is to develop software interface for converting data from the contour format to an array, or grid, of elevations
Java and VRML Execution Model for Animation
The networking programming language Java and the 3D graphics standard for the Internet, the Virtual Reality Modeling Language (VRML) are two tools that allow us to build rich, interactive 3D scenes - scenes that and where
People can navigate through and can interact with
VRML provides the essential 3D building blocks for constructing your own cyberworlds
Java is the glue that animates the worlds and links them to the World Wide Web
Goal of the project
To give students a grounding in the mechanisms supported by VRML 2.0
To show how to use Java to build animated 3D worlds
To develop an application whereby objects can be animated.
Shape transformations with constraints for animation applications
Shape transformation is one of basic operations in computer graphics. Examples of applications can be found in such fields as animation and computer-aided design (CAD). In CAD, shape transformation methods become important because they allow customized objects to be generated according to some measurement data. The problem concerns transformation of a given geometric shape into another in a continuous manner. The goal of the project is to develop a software tool for animation where
Geometric models are based on measured data
A space-mapping technique based on compactly supported radial-based functions provides constraints for collision avoidance and the function mapping defines metamorphosis between two implicitly defined shapes.
2D Warping and Sample-Based Approximation for Flame Animation
Visualization of different natural phenomena has three main problems:
Sfficient quality to display high-resolution images
Motion simulation
Calculation speed
The goal of the project is to develop a software algorithm for flame animation to obtain visually smooth images in a reasonable time.
Figure. Initial (a) and warped image (b)
Publications