Faculty Profile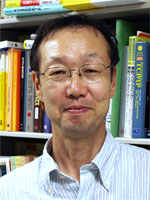 Professor: Digital Media, Graduate School
Shuichi YUKITA
Research area:
Cellular Automata Theory
Algorithmic Mathematics
Mathematical Visualization
Related site:
Personal Statement
Shuichi YUKITA received the B.S. degree in physics and the M.S. degree in mathematics from the University of Tokyo, Tokyo, Japan in 1976 and 1978, respectively. He received the Ph.D. degree in information science from Tohoku University, Sendai, Japan in 2000. From 1983 to 1987, he was with Toyo University, Saitama, Japan. From 1987 to 1993, he was with Wakkanai-Hokusei Junior College, Hokkaido, Japan. From 1993 to March 2000, he was with the University of Aizu, Fukushima, Japan. In April 2000, he joined the Faculty of Computer and Information Sciences at Hosei University, Japan, as an Associate Professor, and become a Professor in April 2001.
His current research areas include cellular automata theory, algorithmic mathematics, and mathematical visualization. He is a member of the IEEE Computer Society, the IEICE, the IPSJ, the Mathematical Society of Japan, and JSIAM.
Teaching Courses
Undergraduate School
Java 1

?

Project A

?

Project B

?
Graduate School
Theory of Computing

?

Topological Modeling I

?

Topological Modeling II

?

IT Factory Seminar III

?

Compilers for Functional Programming Languages

?

Research Semimar III

?

Research Course in Computer and Information Sciences

?

Master Thesis
Doctor Dissertation
Publications